New Braintree Payments system
Why?
In various countries such as Germany and Turkey for instance Paypal does support payment or payment of recurring subscribtions For that reasons we have been looking for another payment partner.
Braintree Payments our new payment partner allows credit card as well as Paypal payments. All users who are happy with Paypal can keep using Paypal and those who can not use paypal can pay with their credit card.
---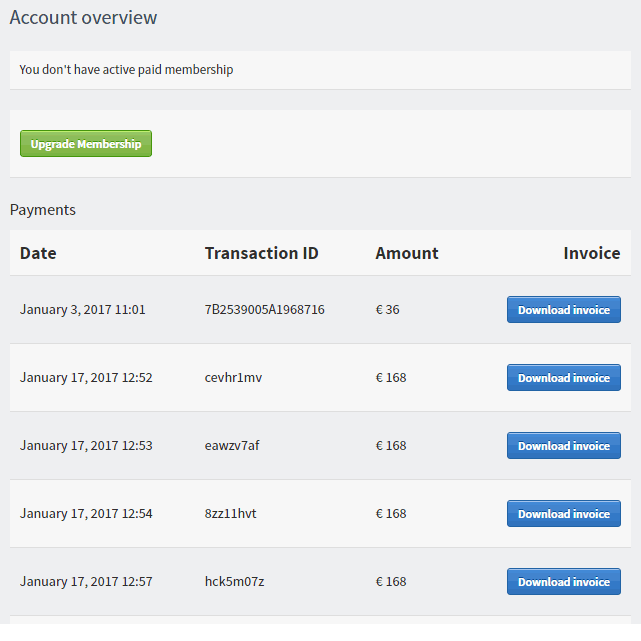 ---
How to pay with Braintree?
Go to your Account page. Your account page shows an overview of your account status. If you have no active membership you will see a button 'Upgrade membership'.


Click on 'Upgrade Membership' and you will end the billing proces wil start:

Step 1. Billing information.
This is were the billing information of the company or person of the subscriber is entered.
VAT info is only mandatory for persons or companies who have an EU VAT registration. If a VAT number is not accepted you can check the number in the European 'vies' vat validation system.


Step 2. Choose Plan
You have the option to choose between:

a. Monthly recurring billing. This subscription can be cancelled every moment, but will automatically renew every monthuntill cancellation;

b. Fixed period 3 month's, non recurring. No cancellation is needed. The plan stops automatically.

c. Fixed period 6 month's, non recurring. No cancellation is needed. The plan stops automatically.

Choose the 'Proceed to payment' button below the plan that you choose.


Step 3. Choose Payment method
In this step a user can:

a. add new a payment method such as a credit card or paypal account and pay or

b. select an added payment method and pay.


Step 4. Succes
After a payment has been made the user recives a messages that the payment was successful. Via the Account overview button the user can goes back to his Account page.


---
Cancel recurring subscription setup
Recurring subscription can be cancelled: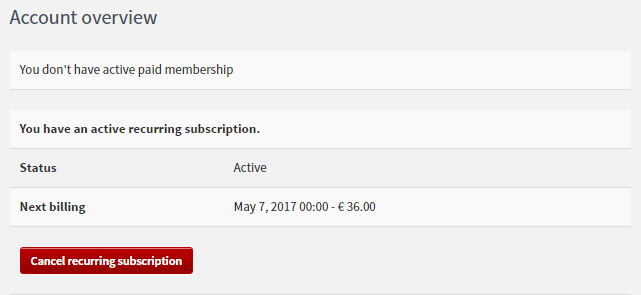 If your subscription was setup on 10 April 2017 or later:

Login with your username and password.
Go to your Account page.
Click on the red button 'Cancel subscription'.

If your subscription was setup before 10 April 2017:

Log in to your PayPal account.
Click Profile near the top right corner of the page.
Click Profile and settings.
Click Financial information.
Click Update beside "My pre-approved payments".
Click Cancel or Cancel automatic billing and follow the instructions.
---
Switching from recurring subscription to fixed period.
Users whom wish to switch from a recurring subscription to a fixed period non recurring subscription will have to cancel their recurring subscription first. After that they can subscribe again and opt for a fixed term plan.
The remaining period of a canceled recurring plan will not overlap with the start of the fixed plan. So if there is still a week remaning on a cancelled recurring plan the new fixed period plan wil start at the end of the cancelled recurring plan.
---
Invoices
All invoices created via Braintree payments can be downloaded in your Account page.