Download CV

Date of birth: 05 Aug 1998
Nationality: Guinea
Player looking for club
| | |
| --- | --- |
| Min. net salary: | login to view |
| Transfer fee: | login to view |
| Preferred territory: | Preferred territory |
| Trial conditions: | FREE READY FOR GOOD CLUB PROJECT |
| Additional information: | FREE READY FOR GOOD CLUB PROJECT |
Player details
Name:
Yamodou Toure
Birthday:
05 Aug 1998 / 22 years old
Nationality:
Guinea
Last contract:
No data available
Height / Weight:
167 cm. / 70 kg.
Position:

Right - winger (preferred)
Left - winger
Playmaker, central midfielder

Foots:
Right
Player profile:

" YAMODOU TOURE RIGHT AND LEFT WINGER PLAYED CAN17 WORLD CUP U17. CAN 20 WORLD CUPU 20

YAMODOU has very good technique, often using different feints in dribbling and moves both sides with the ball. He regularly uses dribbles in the final third and can overcome several opponents in a row and penetrate into the penalty box.

The player has very quick first steps with the ball which, combined with a low center of gravity, makes him difficult to defend against. He uses both feet to make the delivery into the box, so he is dangerous down the flank and through central areas - this season he has recorded 5 assists.

Achievements:

" He has a good shot from outside the box, and is a big threat if opponents leave space for him to get into good positions and shoot.
Career
| Since | Club | Contracts |
| --- | --- | --- |
| Aug 2018 | Smouha ( Egypt ) | No professional contracts entered |
Match summary
| Season / Team / Comp | | T | | | B | | | | |
| --- | --- | --- | --- | --- | --- | --- | --- | --- | --- |
| 2018/2019 / Smouha / Premier League | 8 | 2 | 6 | 2 | 0 | 0 | 0 | 0 | 0 |
| 2017 Zambia / Guinea U20 / Africa U20 Cup of Nations | 5 | 3 | 2 | 2 | 0 | 1 | 1 | 0 | 0 |
| 2015 Chile / Guinea U17 / U17 World Cup | 3 | 3 | 0 | 2 | 0 | 0 | 0 | 0 | 0 |
Player Media

Bah Ibrahima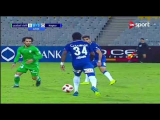 LEFT AND RIGHT WINGER ZZ
Feb 21, 2020
10 months ago •
Link to this post •

Bah Ibrahima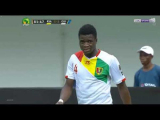 WINGER RIGHT AND LEFT ZZ
Feb 21, 2020
10 months ago •
Link to this post •