Download CV

Andrei Rus - Player, Right fullback
Date of birth: 14 May 2002
Nationality: Romania
Player looking for club
| | |
| --- | --- |
| Min. net salary: | login to view |
| Transfer fee: | login to view |
| Preferred territory: | Preferred territory |
| Trial conditions: | I am open for any trial, I just need the club to pay for tickets and accommodation. |
Player details
Name:
Andrei Rus
Birthday:
14 May 2002 / 19 years old
Nationality:
Romania
Languages:
Romanian, English
Last contract expired:
30 May, 2021
Height / Weight:
175 cm. / 75 kg.
Position:

Right fullback (preferred)
Left fullback
Right midfielder

Foots:
Both_right
Player profile:

" My preferred position is the Right Back role but my good attribute is that I could play in
any position on the pitch , if necessary. Most of my old teammates called me Kyle Walker
as I am very quick and can offer a lot defending wise and also going forward . I am currently playing for the Cypriot club Oroklini Troulloi FC who are in the Cypriot 3rd Division . I signed for them in the January's transfer window and have made 17 appearances for the club in the 2nd half of the season . My credentials are on www.cfa.com.cy/En/player/70/12582156 . I am naturally right footed which on the right side it allows me to bomb on forwards and make good crosses for my other teammates to score , but also my ability allows me to take control of the ball also with my left foot which could help me when cutting in and having a shot or when I can not cross the ball into the box with my right foot . I like to work hard all the time and I will do whatever it takes to play football professionally.

Achievements:

" Age 5: Started Playing Football for Viitorul Gherla.
Age 8-13: Played a lot for Viitorul Gherla against teams such as CFR Cluj; U Cluj, ASA Targu Mures, etc.
Age 14: Moved to England, started playing for Eagles United FC (Sunday League U16)
Age 15: Started Playing for Total Football Academy. Also Played some showcase games at Cobham - Chelsea FC.
Age 16: Started playing for Hadley FC. Also went on a 6 weeks trial for Norwich FC and was the only trialist selected to play a game against the Birmingham City FC Academy. Then I moved on to the Ben Herd Football Academy. I played a few showcase games and was invited to a trial for AFC Bournemouth for which I played a game against AFC Sunderland, which we defeated 3-1 and I managed to get 2 assists.
Age 17: Started playing for Potters Bar Town FC U18. During this time, I have also made my debut into Men's football with the first team at Potters Bar Town FC.
Age 17-18: Went on trial for Ipswich Town and got the chance to train with the club for 2 weeks and also take part in a League fixture against Watford FC. Started playing for Hertford Town FC First Team, where I made it around 20 appearances in the League and Cup.
Age 18-19: Started playing for Aveley FC Reserves Team, In my time here I have played around 10 games before I came to Cyprus on trial with Oroklini Troulloi FC. After my trial they decided the want to sign me in the January's Transfer Window . At the beginning of February 2021, I have made my way back to Cyprus to play professionally for Oroklini Troulloi FC, in the Cypriot 3rd Division. I am an official player of the Cypriot side Oroklini Troulloi FC, and now the season has finished and my contract has ended but it could be extended.
Career
| Since | Club | Contracts |
| --- | --- | --- |
| Jan 2021 | Oroklini Troulloi FC ( Cyprus ) | 22 Jan 2021 - 30 May 2021 |
Match summary
Player Media

Liviu-Stefan Mihalcescu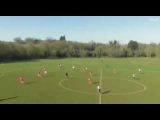 Silviu Andrei Rus Highlights
Jun 29, 2021
1 month ago •
Link to this post •