Download CV

Date of birth: 07 Jul 2000
Nationality: Latvia
Phone: +371 25620228
Player looking for club
| | |
| --- | --- |
| Min. net salary: | login to view |
| Transfer fee: | login to view |
| Preferred territory: | Preferred territory |
| Trial conditions: | Club covers travel expenses. accommodations for trial period and other expenses if there is any. |
| Additional information: | Free to join new club after season finishes in end of November. Don't mind going abroad and outside Europe. Only serious propositions. |
Player represents himself
Player details
Name:
Klāvs Kramēns
Birthday:
07 Jul 2000 / 23 years old
Nationality:
Latvia
Languages:
Latvian-native, English-fluent, Russian- conversational.
Last contract expired:
30 Nov, 2023
Height / Weight:
191 cm. / 89 kg.
Position:

Left centerback (preferred)
Right centerback
Centre Forward (target man)

Foots:
Both_right
Player profile:

" Over 110 games in highest division in Latvia and Lithuania.
Have been playing in all 3 CB positions. Right , left and in the middle with formation 5 defenders.
Strong and athletic player type.
Air duels is a piece of cake.

Achievements:

" Called for u21 national team.
Latvia League1 winner back in 2017
All information available on transfermarket.
Current value 125K

Other information:

" Currently under contract in Lithuania which expires this year. So im looking for new opportunities. Dont mind offers from outside of Europe.
Career
| Since | Club | Contracts |
| --- | --- | --- |
| Jun 2019 | Spartaks Jūrmala ( Latvia ) | No professional contracts entered |
| Sep 2017 | Valmiera ( Latvia ) | No professional contracts entered |
| Jan 2023 | Liepāja ( Latvia ) | No professional contracts entered |
| Mar 2023 | Dainava ( Lithuania ) | 01 Mar 2023 - 30 Nov 2023 |
Match summary
Player Media

Klāvs Kramēns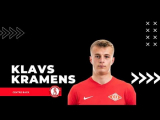 KRAMENS Klavs | Centre Back | Highlights
Dec 18, 2020
2 years ago •
Link to this post •
Education
Bachelors - Bank highschool
BUSSINES MANAGMENT
Period: 2019 - 2022

Klāvs Kramēns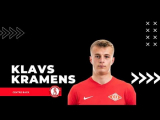 KRAMENS Klavs | Centre Back | Highlights
Dec 18, 2020
2 years ago •
Link to this post •